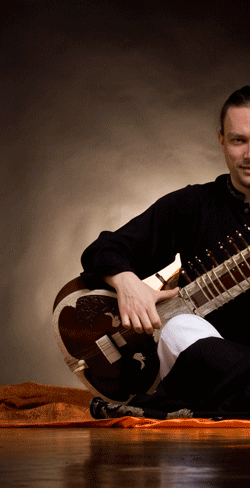 The Potsdam based sitarist Sebastian Dreyer is one of the few German instrumentalists who dedicate themselves to the classical Indian Raga music in its traditional form. His education began with the Berlin based sitar player Gisela Tarwitt who had studied the sitar in the tradition of the Jaipur style witj Pandit Ghasi Lal Sharma in Jaipur. Being the sole representative for sitar in Berlin, until 2005 she gave Sebastian a musical voice and built up the fundament for his first solo concerts. After supplementary classes with other sitarists he is studying since 2003 under the tutelage of Partha Chatterjee, a student of Nikhil Banerjee and Ali Akbar Khan.
Since 2000, Sebastian is active as a concert and studio musician, has played concerts and appeared in festivals in Germany, India, Poland, Switzerland, Czech Republic, Austria, Russia, Hungary and Indonesia. He regurarly collaborates with musicians, dancers, film and theater directors.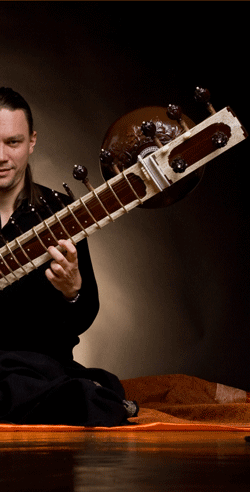 Since 2006 Sebastian Dreyer teaches classical Indian music privately and at various music schools. He also shares his knowledge about Indian raga music in the form of workshops and lectures at various educational institutions.
Besides his practical musical education Sebastian Dreyer studied comparative musicology and Indian philology in Berlin. His studies enabled him both to the scientific approach to the Indian musical traditions and their concepts of aesthetics as well as to his work as a teacher and translator for the Hindi language.
WHAT THE PRESS SAYS:

"Sebastian Dreyer mesmerized the audience with the raga Puriya Dhanashree ... captured their hearts with his recital."
- Hindustan Dainik, Gaya

"A breathtaking experience for the listeners [...] Sebastian Dreyer [...] is a distinguished artist on the sitar."
- Sanmarg, Gaya

"Sebastian Dreyer with his Sitar made the air shimmer from heat, recreated the inertia and gravity of the hot and humid tropical air, let the contours blur, ... fascinated the audience with its excellent play on the sitar."
- Märkische Allgemeine Zeitung

"Dreyer here played a Raga Marwa, composed for the time of sunset, which found its virtuos and furious development in the Gat part. [...] An almost 45 minutes lasting musical celebration of the sunset."
- Potsdamer Neueste Nachrichten